---
Click on "if pigs could fly rendering to go straight to the La Canada Flintridge Tournament of Roses Web Site
C

WE WON!!!!
if pigs could fly,
The La Canada Flintridge 2012 Float,
Won the Bob Hope Humor Trophy
for the

"most comical and amusing"
float in the parade!!!

Lenny and I went out to the float site for
the Under the Bridge Happy Hour, the Patrons' Dinner
and for the final Judging.
If you'd like to see the pictures I took out there,
the following links will take you to my albums on webshots.com. Enjoy!

Helaine
Click the link(s) to see my pictures of the 2012 float:
See pictures from Float Judging 1-2-12
VIDEO ALERT!!!
See a short video of our 2012 float, If Pigs Could Fly!
Click on the link below:
The 2012 La Canada Flintridge Rose Parade float, If Pigs Could Fly,
was out on the street on January 1, 2012 for an official judging.
Here's a look . . . and sound of the Bob Hope Humor Award winner for 2012!!!
---
3-2-1 DIG!
The La Canada Flintridge float for 2011!

I haven't been out to voluteer on the float as often as I would have liked this year,
but I'm there now and taking pictures in between jobs.
Click the links below to see my pictures.

Under the Bridge Happy Hour - December 26

and Float Decorating - December 28, 2010 Pictures




Past Presidents Patron

Party (Major Donor Party)




December 29, 2010





Float Decorating - December 30, 2010

Float Decorating and Judging - December 31, 2010
For those of you who weren't fortunate enough to see the La Canada Flintridge
float in action, click on these two links:

http://www.youtube.com/user/Hawkysmom#p/u/12/MKRJc-Wk8WM

http://www.youtube.com/user/Hawkysmom#p/u/13/6nohl8IUBOQ

Here's a video "captured" from NBC.com,
but it's our people being interviewed
and it's really cute!

---
CONGRATULATIONS
to the
La Caņada Flintridge Tournament of Roses Association
and ALL the volunteers who put their time, effort and love
into getting our 2010 float, Scissored Wizard,
from a concept to Colorado Blvd
and
2010 Fantasy Trophy Winner
for
the Most Outstanding Display of Fantasy & Imagination!!!
Wooooooohoooooooooo!!!!!


(Picture from the official La Canada Flintridge Tournament of Roses web site)
Here are some of my 2010 float pictures. To see the rest of my pictures go to:
http://community.webshots.com/album/575999710OrwIGo
Here is a GREAT Youtube video thanks to wishek: http://www.youtube.com/watch?v=Sfsyw-puJ1w
Thanks to Pigfarmerfromdakota for this one: http://www.youtube.com/watch?v=Cs2g9t2H-5M
Be sure to take a look at my "not as good" videos after all the pictures I put on webshots.com
The Wizard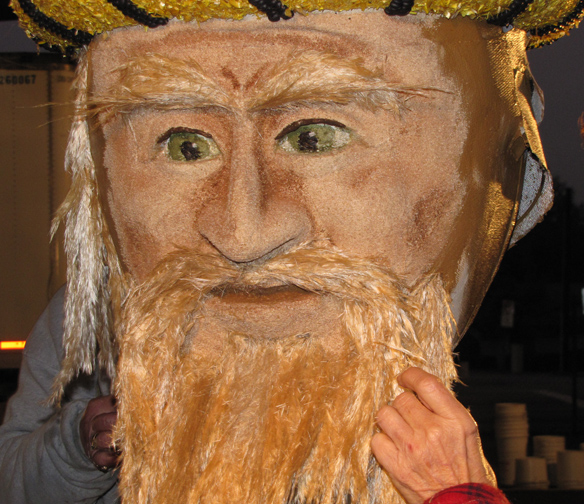 Please take a minute and go to: http://www.ktla.com/entertainment/roseparade/viewerschoice/

to cast your vote for our float, La Canada Flintridge Scissored Wizard!!! You'll see it and know that it is your favorite!

Here are the directions:

On January 1, 2010, the day of the 121st Tournament of Roses Parade, you can visit this page and cast your vote for the float you think should receive the Viewers' Choice Award. If you miss the parade on TV (which will be hard to do because it's on KTLA all day until 5:30 pm) you'll be able to view video of parade right here on KTLA.COM.

Voting will be open from 10:00 a.m. (PST) to 5:00 p.m. (PST). on January 1.

http://www.ktla.com/entertainment/roseparade/viewerschoice/

Thanks for your help!

Helaine

Well, it's almost time for the 2010 New Year's Day Tournament of Roses Parade and the La Canada Flintridge Float is looking good!!! Here are pictures of it:

Lots more pictures are sure to follow leading up to the New Year's Eve Day Judging event! Watch this space!

* ALL the old pictures I've taken since December 1999
(I guess that's when I learned to do web pages)
can be seen if you scroll way down and click on what you want to see.
---
BINGO BBQ - April 25, 2009
Lenny and I attended the La Canada Flintridge Float Assn. Bingo BBQ along with probably a couple hundred others. The food was GREAT! There were TONS Bingo games/prizes, raffle prizes and door prizes! And there were a whole bunch of really nice people to talk to! I highly recommend that if you haven't attend this event in the past, do it next year!
La Canada Flintridge
Tournament of Roses Association
presents
Mechanical Melodies
winner of the
Animation Trophy!!!

WOOOOOHOOOOO!!!
Congratulations to the
La Canada Flintridge Trournamet of Roses Association
for winning the Animation Trophy
for the
SECOND YEAR IN A ROW!!!

Here's the letter I received from Jim Misamore at 6:58AM on New Years Day morning!!!
To all:

I'm still stunned. I never believed it was possible. It must have been the pneumatically controlled xylophone mallets hitting the xylophone bars in exact sync with the song "Celebration."

I'm going to have to research this, but I don't think any float has won Animation two years in a row....and to think it was a comparatively low budget float (and a "Self built") that did it. I bet some of the big budget floats are not going to believe it either!

Hurray for Dustin Crumb (the Chief Design Eng.) and Randy Bartos, the JPL Engineer that designed the pneumatic circuit and programed the movement to sync with the music!!

Jim
Click here to see the fun judging on December 31, 2008
with the float out in the street with all the animation running and music playing!!!
It was beautiful moving in the sunshine with bright blue sky in the background!!!





Click here to see how work on Mechanical Melodies moving along at a FAST pace on December 30!!!





Click here to see pictures from December 29 - Working on the Float AND the Patrons' Reception





Click here to see pictures from the Under the Bridge Happy Hour - December 26, 2008
---
Click to Sing Along with Rain Forest Fiesta Float

A toucan's eye view from
Kathy Hernandez, a member of the LCFTRA

Happy Hour at the Hutchins - 6-23-07
---
Click links below to see a few of my "Self Built Float" photos:
On Sunday, December 31, 2006, Lenny and I joined the happy crowd at the float site to watch the float pull out into the street with animation running for the Tournament judges. The weather was fabulous with bright sun and beautiful blue sky! Our float looked like a winner with the bright colors practically glowing in the sun and the numerous animations running. It's cute and the coverage is great, and the theme . . . what can I say? I just can't wait to see which trophy we win!!!

(I KNOW I've got a lot of photos! I can't help myself . . . sorry.)

Here's something else I'm trying. Don't know if it will work . . . feel free to let me know if there is a problem. These links SHOULD lead to youtube.com where I've uploaded some short video clips of the float animation:

Patrons' Party - 12-29-06 - Page 1
Patrons' Party - 12-29-06 - Page 2
My visit to the construction site 12-20-06
Happy Hour Under the Bridge Preview Party 12-29-06
---
January 2, 2006
And the Theme Trophy
for excellence in presenting parade theme
GOES TO:
City of La Canada Flintridge's
"The Great Howldini"