LAS VEGAS 2002

Saturday, August 31 - Monday, September 2




OUR 2ND DAY WITH CHRISTINE
Sunday, September 1
We pretty much got together only for meals, but it was still fun and . . . still a lot closer than England!
(But geeeez, Las Vegas sure is noisy!)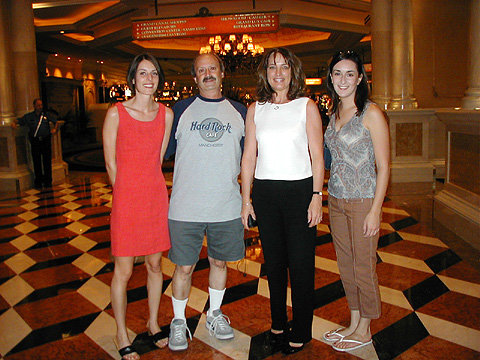 We met at our usual morning meeting place, their lobby, for breakfast. For the life of me, I can't remember where we ate breakfast.
The long hallway to the registration desk was absolutely beautiful!
| | |
| --- | --- |
| The floor was sparkly clean and had a really cool 3-D effect. | And the high domed ceiling makes you feel like you're in Italy! |
| Along the hallway are beautiful columns with a high curved beautifully painted ceiling. | Right by registration, our meeting place, there was a wonderful gold statue and fountain. |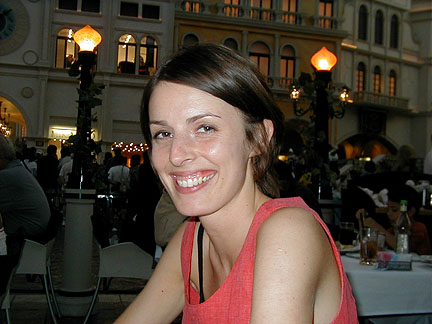 We met again for a great lunch in Venice!




I will NEVER ask this waitress
to take a picture for me again!
:-)




Then Christine and Emma were off to work again.
C'mon, just one more shot!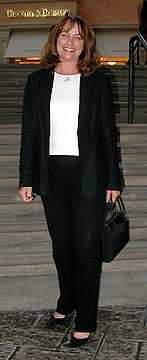 Lenny, Sandi and I were off to see the White Tigers!


Notice the big red balloon "stuck" up in the sky.
Made it look very surreal.



"Oh! Sole Mio . . ."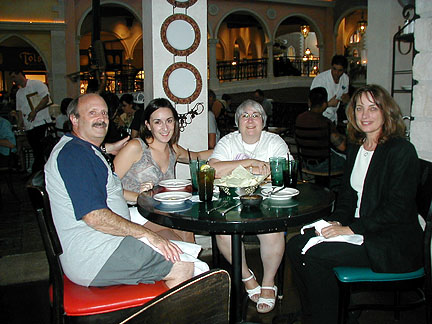 Later Christine came to join us for dinner.
We ate Mexican . . . yummmmm!!!