GREAT NEWS from Auntsweety@aol.com
"we're going to be in new york for a few days in march for our daughter's wedding march 13. she was engaged only a few weks ago and they decided on a small wedding (only 24 guests) but wanted it to be asap.
we're shouting it from the rooftops. this has b een a 3-year relationship that suddenly took a right turn. we're thrillled and delighted. thanks for your good wishes."

---
MAZEL TOV!!!
to Helaine Howard and her family!!!
MY SON ERIC AND WIFE KRISSY DELIVERED TWINS, SAM AND SOPHIE ON WEDNESDAY, FEB. 18TH. AND 8:58 P.M. SAM WEIGHED 4 LBS. 10 OZ. SOPHIE WAS 4 LBS. 2 OZ SAMMIE IS DOING GREAT AND SOPHIE IS IN NEONATAL CARE AS HER BLOOD SUGAR IS GOING UP AND DOWN BUT SHE'LL BE FINE. WE ARE SO PROUD AND HAPPY FOR THEM
AND THEY ARE BEAUTIFUL WITH LOTS OF BLACK HAIR.
THEY ARE IN CEDAR SINAI HOSPITAL SO THEY ARE GETTING THE BEST OF CARE.
THANKS,
HELAINE J. HOWARD
LOVE YOU ALL, LIFE IS GOOD!

---
Check out Helaine Mottershead's <herbandteas@msn.com> new hobby
Hi

I just wanted to show off what I have made lately.....I have been doing work in beaded embroidery and this is my 1st beaded doll I have made. (In response to my questioning, Mottershead replied: ) I am making her for myself to see if I could do it. That's beaded embroidery so yes I did sew them each bead on there. I have a 2 inch pattern that I would be glad to make for sale. Done that way that you would wear around your neck as a goddess amulet. The 5 inch one would just be too much if I sold her. I finally am getting into beaded embroidery. Enjoy!!!
Here also is a picture of Mottershead getting ready for one of her other hobbies:

Herbal hugs, Helaine
Herbal teas and more!
www.misshelaineous.com

---

This isn't "news", but I thought I'd stick it here anyhow.
Hey, I'm the web master!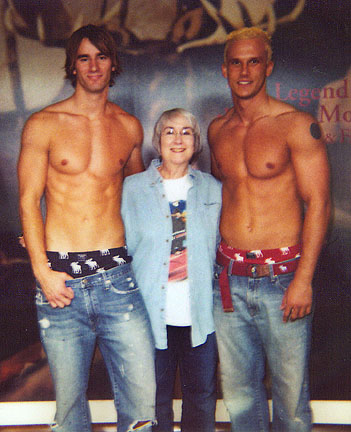 ---
MORE GREAT NEWS!!!
The good news just keeps on coming!

From Linda Amos <theirmomma@comcast.net>
My daughter was married in June and I haven't updated anyone on that! I am the BAD one. I will get myself together one day to send a picture or two or three.....I may just get carried away.
God Bless
Linda, Helaine, of course
---
From Helaine Greenberg, Reno, NV (HGSunshine@aol.com)
--My daughter Lauren and son-in-law Jack are expecting their first in March. --my 3rd grandchild, my other daughter has 2 boys and my son and his wife moved to N.Y.

so I look forward to meeting other Helaine's from NY!!!
---
In Helaine (Stevens) PAPPAS' own words to me:
I may have already sent you my news but just in case... I am no longer Helaine Stevens... I am now Helaine Pappas! :) WIFE of Chris Pappas (aka Romeo :)
forgive me if I've already sent them to you... I just love to share the most beautiful day of our lives!!!!!!!!!!
xoxo!
Helaine Pappas
Helaine, CONGRATULATIONS to you and Chris!!!

---

GREAT News from Kirby303@aol.com
News...my daughter is engaged to be married. Jodi Fladell (daughter of Helaine Kobrin) to Brian Maggio. Wedding will be December 18, 2004 at Temple Beth Torah in Dix Hills, L.I. We are VERY excited!
---

And more GREAT News from Baldwinhelaine@aol.com

More good news! My daughter, Jennifer Baldwin, is also engaged. She will marry Charlie Powe on June 19, 2004, in Arlington Hts, IL. They are both terrific young people and we are very happy for them.
Helaine Baldwin

---

And finally, (for now) FANTASTIC News
from helainejhoward@socal.rr.com
Just a little note to tell you that my son, Eric, and his wife, Krissy, are pregnant with twins. Yesterday we found out there is one boy and one girl. I got to go with them to see the Sonogram and it was very exciting! They are due March 20th. HelaineJ

---
MAZEL TOV to all three of our Helaines and their families!!!
Please let us all know if any others of you have exciting news to share.