NEW YORK 2002
and
LA PORTE, INDIANA

The Rock and Roll Hall of Fame
A Stop on the Way
Friday, July 26, 2002
Lenny and I left Rochester very early in the morning on Friday, July 26 headed for La Porte, Indiana. Around halfway there, we stopped in Cleveland, Ohio for a tour of the Rock and Roll Hall of Fame. It was very cool seeing memorabilia from EVERY rock and roller you can imagine (and some you can't). For me, the ultimate was the top three floors of the museum's pyramid which held an exhibit of John Lennon's (and some of the other Beatle's) photos, artwork, personal items (glasses, jackets, guitars, etc.) and some of John's song lyrics written on paper by John himself! It was sooo cooool!!!!!
It was POURING when Annette brought
us to the airport for out rental car!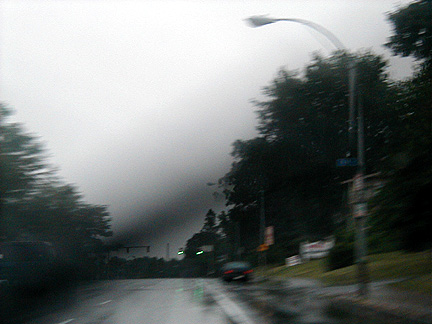 But most of the time the driving conditions were good and dry.
No photographs can be taken in the museum, except for in the lobby on the ground floor. In the lobby and outside was an exhibit of giant guitars designed and painted by different artists so I made the most of my digital camera! The guitar exhibit was similar to the "Cows on Parade" and the painted horses that were all over, including Rochester (see my Horses of Rochester page).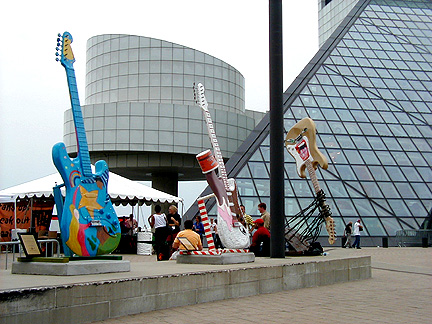 The Rock and Roll Hall of Fame and Lenny




It was hot, gray and muggy in Cleveland this day!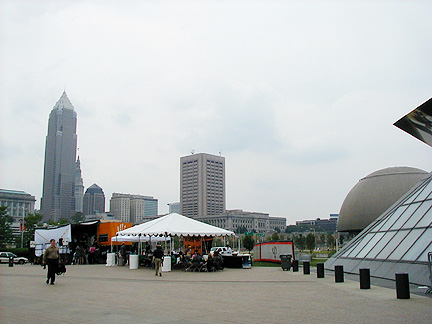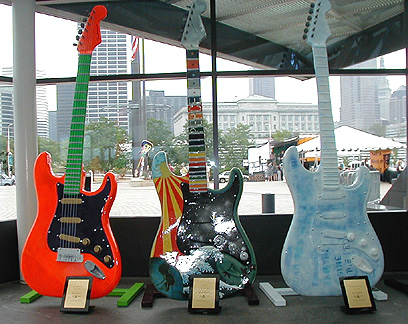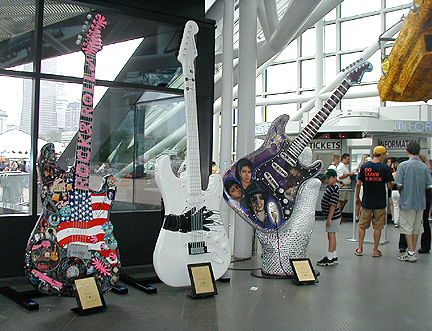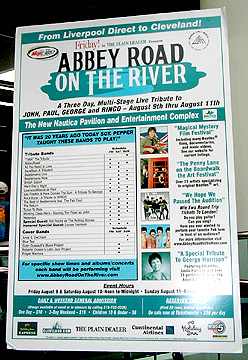 There were several of these cars hanging
from the ceiling high above the lobby.



One of the guitars was painted by Keith Richards, but I don't remember which it was . . . duh!
The blue guitar above was done by Yoko Ono who lent the museum the Lennon exhibit.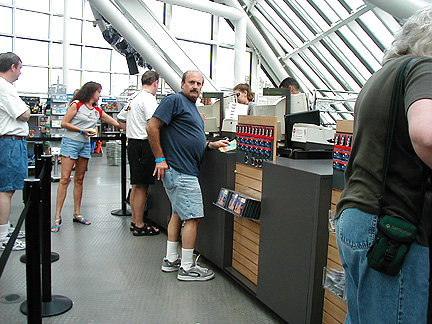 Lenny shelling out for our
Rock and Roll Hall of Fame souvenirs.

Then we were back on the road to La Porte, Indiana!
Return to My Home Page
Return to My Special Events Page
Return to Rochester Index Page
Click the following links to see the rest of my Rochester photos
Page 1 - Friday, July 19 - Leaving LAX - Arriving Buffalo
Page 2 - Friday, July 19 - Kay's House in Niagara Falls
Page 3 - Friday, July 19 - Finally Got to Annette's House
Page 4 - Saturday, July 20 - The Old Hood
Page 5 - Saturday, July 20 - Don's Originals
Page 6 - Saturday, July 20 - Glenn's House
Page 7 - Saturday, July 20 - Sodus Lighthouse
Page 8 - Saturday, July 20 - West Pier Light - Sodus Bay and Ride Back to Rochester
Page 9 - Saturday, July 20 - Family Dinner at Annette's
Page 10 - Sunday, July 21 - Concert in the Park/Dessert at Nate & Alice
Page 11 - Monday, July 22 - Cousins at the Highland Park Diner
Page 12 - Monday, July 22 - Wegman's - (Click HERE for More Wegman's Photos)
Page 13 - Monday, July 22 - Charlotte-Genesee Lighthouse
Page 14 - Monday, July 22 - A Family Dinner
Page 15 - Tuesday, July 23 - Charlotte
Page 16 - Wednesday, July 24 - Naples/Cemetery
Page 17 - Wednesday, July 24 - Widmer Winery and Monica's
Page 18 - Wednesday, July 24 - A Family Dinner Out
Page 19 - Thursday, July 25 - Lunch With Cousins
Page 20 - Thursday, July 25 - Marilynne's Glass Studio
Page 21 - Thursday, July 25 - Bob's Collections
Page 22 - Thursday, July 25 - Dinner With Jeff's Gang
Horses of Rochester
The La Porte, Indiana Part of Our Trip
(and The Rock and Roll Hall of Fame)