ENGLAND 2001

Kieren and Thomas
in Lynmouth


Saturday, July 28



Page 17
We met Kieren and Thomas back at Lynmouth. They were planning to stay in a campground, but Christine got them a REAL room in the B&B right next to ours.

They rested and refreshed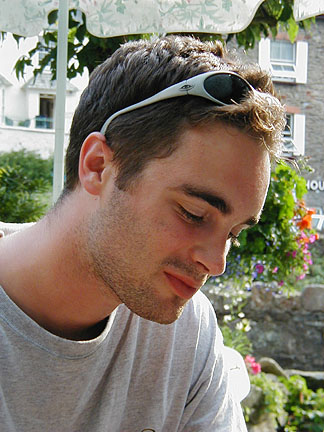 And talked . . .





The Glenville House diningroom where we had our breakfast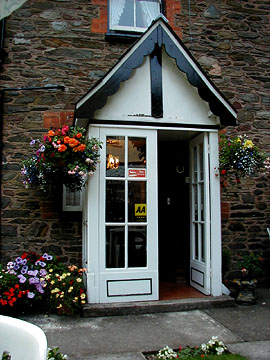 Welcome!




Christine and Kieren share our mushrooms.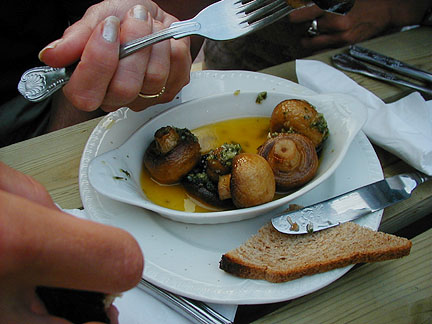 Christine got to eat lots of mushrooms during are holiday.
Neither Lenny or I ever touch them!
Sunday morning on the way to Bristol
we stopped at the Valley of the Rocks.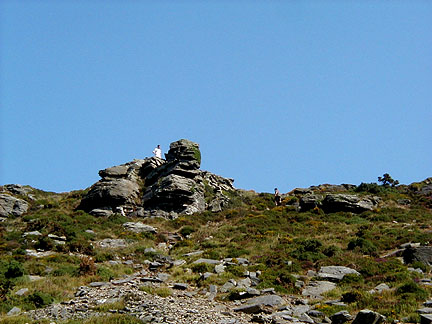 I jokingly told Thomas to climb up so I could take a picture.
After a few minutes both Thomas and Kieren were up at the top!





After a few pictures we were on our way again.




That's Kieren driving Thomas' car.




And Chritine driving us in her car . . . .
WITH THE CONVERTIBLE TOP DOWN!!!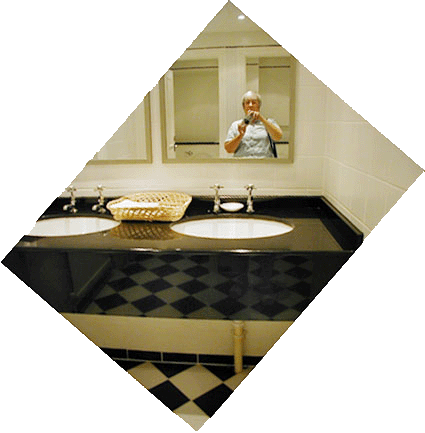 Page 1 - Lenny and I Leave LAX - Wednesday, July 18, 2001 - 11:35AM
Page 2 - Hanging Out with David Near Hyde Park- Thursday, July 19
Page 3 - Finally at Christine's House! - Thursday, July 19 - Friday AM, July 20
Page 4 - Stonehenge - Friday, July 20
Page 5 - The Thorntons - Friday, July 20
Page 6 - Dartmouth - Friday, July 20
Page 7 - Start Point Lighthouse - Saturday, July 21
Page 8 - Dartmoor - Sunday, July 22
Page 9 - Whitecombe in Moor and Dartmeet - Sunday, July 22
Page 10 - Plymouth and Higher Kestle Farm - Monday, July 23
Page 11 - Mevegissey - Monday, July 23, 2001
Page 12 - The Eden Project and The Lost Gardens of Heligan - Tuesday, July 24
Page 13 - Charleston, Tuesday, July 24 & St. Michael's Mount/St Ives-Wednesday, July 25
Page 14 - Private Tin Mine, Roman Ruins, Pendeen Lighthouse,
Geevor Tin Mine, Coastal Path - Thursday, July 26
Page 15 - Kieren and Thomas join us - Thursday, July 26
Page 16 - Tintagel, Lynmouth- Friday, July 27 and Exmoor - Saturday, July 28
P
age 17 - Kieren and Thomas in Lynmouth - Saturday, July 28 - Sunday, July 29
Page 18 - Ross-on-Wye Desserts, Ragolin Castle - Wales, Manchester, Gretna
Green Scotland and The Tattoo Bands Sunday, July 29 - Tuesday, July 31
Page 19 - Inside Edinburgh Castle - Wednesday, August 1
Page 20 - Perth, Loch Ness and Driving to the Lake District - Wednesday, August 1
Page 21 - The Lake District - Friday, August 3 and Saturday, August 4
Page 22 - Lake Windemere - Saturday, August 4; Manchester - Saturday, August 5
Page 23 - London Eye & Walking the Thames - Monday, August 6; Our Last Night in England
- Tuesday, August 7
Page 24 - Parting Shots (from the air) - Wednesday, August 8