ENGLAND 2001
Lake Windemere
and
Linda and Steve's
Favorite Turkish Restaurant!
Saturday, August 4
and
Brunch at the Airleys'
Sunday, August 5
Page 22
Lake Windemere is a beautiful little town with storybook buildings. It is the home of Beatrix Potter
(I think), and has a Beatrix Potter store and theme thing for kids.
It was beautiful out so we decided to take a boat ride around the lake. A few sprinkles chased the rest of my group downstairs and under cover, but I "braved" the weather and got a history lesson of the area from a local man.
By the time we got back to shore, the weather had changed and it was pouring. I had just gotten under a small roof when I heard a loud roar. It was the Red Arrows!!! AWESOME!!!

Mouse Under Glass at Beatrix Potter's


You can't see really good, but this place
is "Mrs. Gee's". (Barbara, I hope you see this!)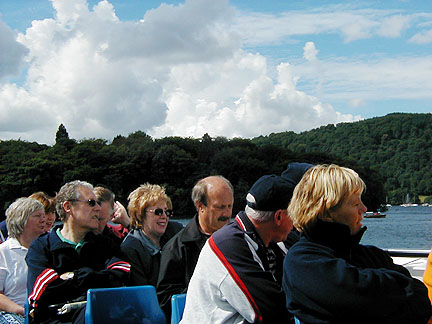 See, it really was beautiful and sunny out!




WoW!!! The Red Arrows! (Equivalent to our Blue Angels)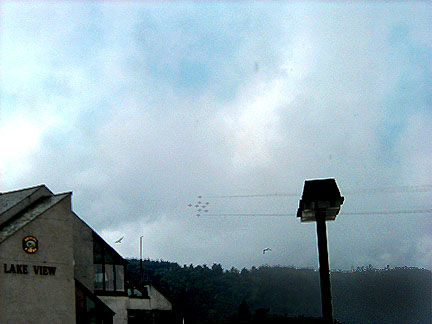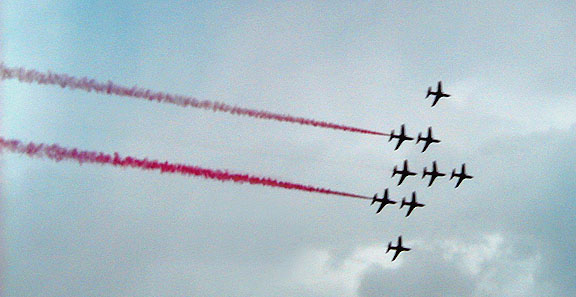 You can't imagine what a thrill it was watching them!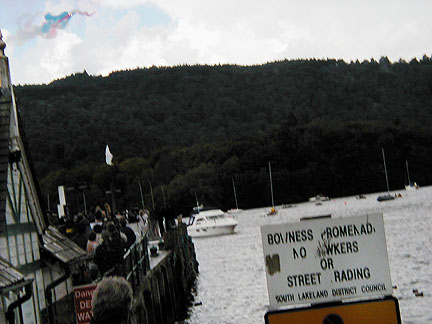 Saturday night we were back in Manchester. We went to dinner at a Turkish restaurant with the Airleys and their friends. Yummm, I love Turkish food now!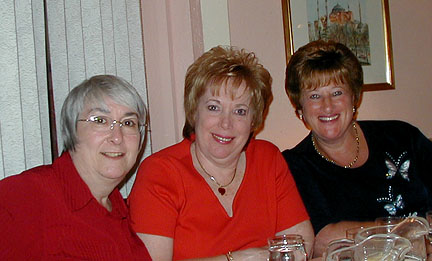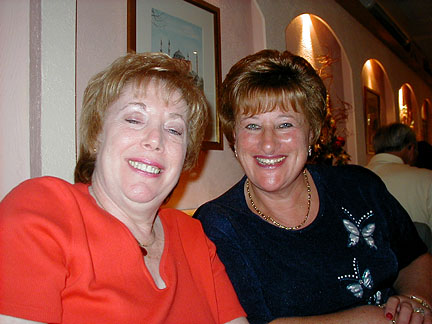 Sunday morning, it was brunch at the Airleys. Linda's mom and Andy (my internet friend) joined us.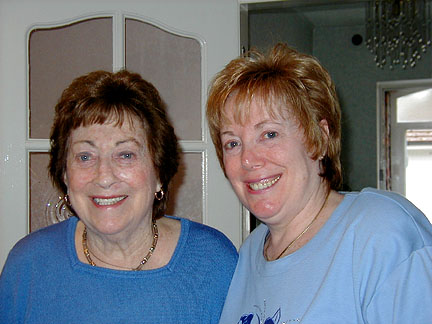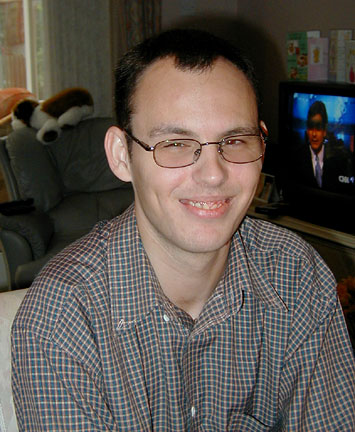 A little while later we were on a train headed back to London.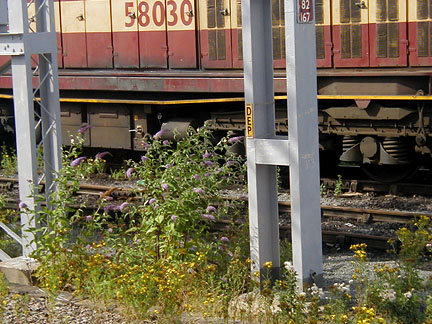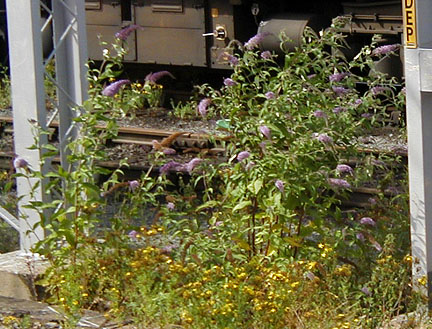 Page 1 - Lenny and I Leave LAX - Wednesday, July 18, 2001 - 11:35AM
Page 2 - Hanging Out with David Near Hyde Park- Thursday, July 19
Page 3 - Finally at Christine's House! - Thursday, July 19 - Friday AM, July 20
Page 4 - Stonehenge - Friday, July 20
Page 5 - The Thorntons - Friday, July 20
Page 6 - Dartmouth - Friday, July 20
Page 7 - Start Point Lighthouse - Saturday, July 21
Page 8 - Dartmoor - Sunday, July 22
Page 9 - Whitecombe in Moor and Dartmeet - Sunday, July 22
Page 10 - Plymouth and Higher Kestle Farm - Monday, July 23
Page 11 - Mevegissey - Monday, July 23, 2001
Page 12 - The Eden Project and The Lost Gardens of Heligan - Tuesday, July 24
Page 13 - Charleston, Tuesday, July 24 & St. Michael's Mount/St Ives-Wednesday, July 25
Page 14 - Private Tin Mine, Roman Ruins, Pendeen Lighthouse,
Geevor Tin Mine, Coastal Path - Thursday, July 26
Page 15 - Kieren and Thomas join us - Thursday, July 26
Page 16 - Tintagel, Lynmouth- Friday, July 27 and Exmoor - Saturday, July 28
P
age 17 - Kieren and Thomas in Lynmouth - Saturday, July 28 - Sunday, July 29
Page 18 - Ross-on-Wye Desserts, Ragolin Castle - Wales, Manchester, Gretna
Green Scotland and The Tattoo Bands Sunday, July 29 - Tuesday, July 31
Page 19 - Inside Edinburgh Castle - Wednesday, August 1
Page 20 - Perth, Loch Ness and Driving to the Lake District - Wednesday, August 1
Page 21 - The Lake District - Friday, August 3 and Saturday, August 4
Page 22 - Lake Windemere - Saturday, August 4; Manchester - Saturday, August 5
Page 23 - London Eye & Walking the Thames - Monday, August 6; Our Last Night in England
- Tuesday, August 7
Page 24 - Parting Shots (from the air) - Wednesday, August 8